Westlawn was a proud sponsor of the 'Westlawn and Hall & Prior Jacaranda Queen Crowning Ceremony' for 2019.
Local businesses also dressed up and performed on Jacaranda Thursday to huge crowds, as they competed for the chance to win the Gold Cup, Silver Cup and Rose Bowl trophies!
Our very own Nikki Cousemacker from Westlawn Insurance who was Jacaranda Queen in 2011 was our 'mock' Jacaranda Queen for our performance, along with her daughter Faith who did a wonderful job as Nikki's robe maid!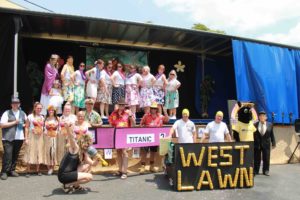 Westlawn was announced as the winner of the prestigious Gold Cup for our efforts! We've won a few Gold Cups throughout the years, but not for a few years now. Last year we took home the Rose Bowl, but to win Gold this year is such an honour! Thanks to all who were involved.
Related Tag: Financial Advice Grafton