Back in 1985, a doctor from Tacoma, Washington, USA had a bright idea for raising money for his local American Cancer Society office. He would run laps around the track at the nearby university stadium for 24 hours and invite family and friends to run or walk with him for 30 minutes at a time. For that privilege, they would each pay $25.
After a gruelling 63 miles around the Baker Stadium track, with both moral and financial support from family, friends and patients, Dr Gordy Klatt raised over $27,000(US) for the fight against cancer.
For over 35 years, the Relay For Life is now held across the globe with thousands of events taking place each year… including right here in Grafton. However, this year the event will go ahead a little differently, with no physical event due to the current pandemic. Instead, the Relay will go ahead virtually and kicks off this Saturday with fundraising efforts and awareness.
The virtual Relay goes from 7th – 14th November and everyone is encouraged to jump on Facebook and Instagram to keep up to date with the activities throughout the week – Relay The Clarence Valley Way and tag #relaytheclarencevalleyway2020 in all your fundraising events.
Westlawn has supported Relay for Life by way of sponsorship for many years and have several Staff members affected by Cancer, either directly or as a family member.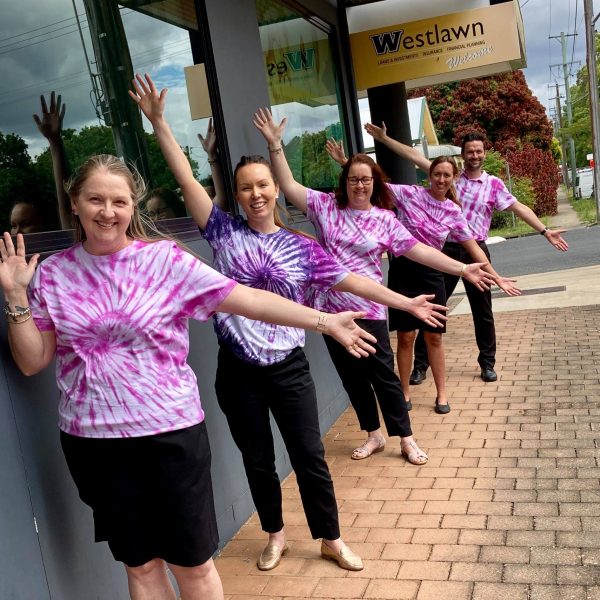 "In support, the Westlawn Wallys will host a Staff Morning Tea Fundraiser on Tues 10th November with lots of purple baked goodies donated by Westlawn and staff, purchased by way of donation to the cause and all dressed in Purple for the event," said Westlawn Walls team captain, Meghan Nelson.
Raffle tickets will be also on sale for $2 each or 3 for $5 with some amazing prizes up for grabs with all proceeds going to the Cancer Council NSW. The Westlawn Office is decorated 'Purple'– in Support Of Relay The Clarence Valley Way 2020.
Grafton Relay For Life has collaborated with Grafton Jacaranda Festival, NSW Cancer Council and Clarence Valley Directory. Grafton Relay for Life are running a COVID Safe event this year and are celebrating a 'Paint the Valley Purple' day as well on Tues 10th November. This day is to fundraise as much money as we can for the Cancer Council and what a bonus, businesses are already themed Purple for the Jacaranda Go Purple campaign.
Remember all your support goes towards helping Clarence Valley residents and their families that have been given a cancer diagnosis.
If you'd like any more information contact our friendly Westlawn Wallys team captain, Meghan Nelson, at meghann@westlawn.com.au or to make a donation visit Cancer Council event page.