Do you deal with the road transport industry? You do if you're a primary producer sending your produce to the markets, a builder receiving materials on a construction site or a manufacturer shipping your products. If you're a wholesaler, retailer or a supplier, chances are you do too.
Do you know that you're also a link in the chain of responsibility in relation to the Heavy Vehicle National Law?
Heavy Vehicle National Law
The Heavy Vehicle National Law (HVNL) came into effect in NSW on 10 February 2014. The law applies to anyone who owns or operates, or works with anyone who owns or operates, vehicles of 4.5 tonnes or more.
The objective of the law is to nationally regulate the use of heavy vehicles on roads in a way that:
Promotes public safety
Manages the impact of heavy vehicles on the environment, road infrastructure and public amenity
Promotes productivity and efficiency in the road transport industry, and
Encourages and promotes productive, efficient and safe business practices.
In particular, the HVNL targets:
Speeding
Illegal driving and working hours, and
Overloading, exceeding vehicle dimensions and poorly restrained loads.
Chain of responsibility
Key to the HVNL is the chain of responsibility (CoR) principle. This sets out specific legal obligations for anyone in the supply chain from employers, managers and company directors through to drivers, loaders and packers.
Under the chain of responsibility, any person who consigns, dispatches, packs, loads, carries, receives or unpacks goods as part of their business can be found liable for breaches of the HVNL.
There are four categories of breaches:
Minor breach– risk of someone gaining a minor unfair commercial advantage over those who operate legally, but no risk to safety or infrastructure.
Substantial breach– risk of damage to infrastructure, increasing traffic congestion and unfair competition. May also involve some risk to safety, but not an appreciable risk.
Severe breach– appreciable risk to safety, more severe risk to infrastructure, greater risk of traffic congestion or a greater level of unfair competition.
Critical breach– contravention of fatigue regulated maximum work time and/or minimum rest time which would adversely affect the driver's ability to drive safely.
Consignors and consignees
Under the chain of responsibility, a consignor includes anyone who commissions the transportation of goods or merchandise. For example, a primary producer sending produce by road to a market or wholesaler.
A consignee includes anyone who takes possession of goods or merchandise. For example, a wholesaler receiving produce from a primary producer.
Both consignors and consignees must take reasonable steps to ensure the terms of any contract for road transport services will not result in a driver being encouraged or incentivised to drive while:
Fatigued
In breach of their work and rest hours obligations under transport fatigue management laws, or
In breach of any other law.
In addition, they must not make any scheduling demand that may cause a driver to drive while fatigued.
How to protect against breeches
As outlined above, penalties are imposed based on the severity of the breach and are usually enforced as administrative or court penalties.
If a business accumulates a number of breaches (even minor breaches), it could result in far heftier fines being applied.
It's therefore vital that directors, managers, employees and all associated parties are aware of their responsibilities under the law and that appropriate CoR training, policies and procedures are in place to prevent any breaches.
According to law firm Holding Redlich:
"Companies can protect themselves against possible breaches by implementing CoR compliance policies and practices and demonstrating that they took reasonable steps to prevent breaches from occurring as a result of their activities.

"However, it is also logical to manage risk, reduce uncertainty and protect your livelihood by way of insurance."

Managing risk
In addition to implementing CoR compliance policies and practices, companies should also consider insurance to cover against unintended breaches, the law firm says.
Insurance relating to a range of statutory regulations can protect parties in the supply chain, including directors and company officers, from potentially serious financial penalties, provided the actions aren't grossly negligent or reckless.
Case studies

Two companies prosecuted for Maitland bridge collapse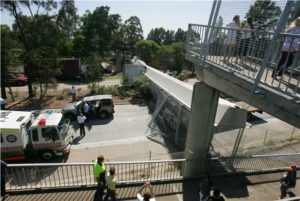 The NSW Supreme Court ordered a trucking company to pay $1 million in compensation and a $16,500 fine for its role in the 2009 collapse of a pedestrian bridge in Maitland, NSW.
The bridge collapsed when it was struck by an over height vehicle carrying an elevated work platform.
The consignee, a crane provider, was also ordered to pay $400,000 and fined $8,250. Both parties were found guilty of breaching vehicle dimension regulations.
The Roads and Maritime Services (RMS) prosecuted both businesses under chain of responsibility law.
Manager & director nabbed for speeding offences
A Mount Gambier transport company was ordered to pay a record $1.25 million in fines after being found guilty for trucking breaches. The fines were the biggest imposed in NSW since chain of responsibility laws were introduced in 2005.
The offences occurred between August 2010 and March 2012. A NSW court found the company guilty of 165 speeding offences and a speed limiter compliance offence.
The fines were also imposed on the manager and director of the company. One driver was clocked at 142 kilometres an hour. In a separate incident, a truck was found to have no working speed limiter.
Source: COR Australia https://www.coraustralia.com/news/case-studies/
Photo: Newcastle Herald
How your insurance broker can help
Your insurance broker can help your business by explaining the risks and the insurance cover available to protect against unintentional breaches of the HVNL.
Appropriate cover may include public liability, professional indemnity, management liability, directors and officers liability and transportation insurance.
Your insurance broker can explain what you are covered for, and just as importantly, what will not be covered under the insurance. For example, insurance will not cover any intentional, deliberate, dishonest, fraudulent or malicious acts, including acts of gross negligence or recklessness.
To find out more about protecting your business, employees and directors, contact Westlawn Insurance Brokers:
29 March 2017