Are you in the market for new equipment for your business? If so, you're not alone. According to the October 2017 Alleasing Equipment Demand Index, one in 4 businesses plan to increase their asset base in the final quarter of 2017 (by an average of 9.2%). The Australian Bureau of Statistics (ABS) is also expecting higher levels of expenditure on equipment, plant and machinery in 2017/18.
And it appears businesses are also moving away from funding those new assets with their own money, and at the same time, turning away from the big banks for finance.
Keeping up with technology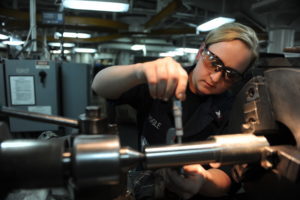 In today's technological world, businesses need to keep up with the latest advances in order to grow, reduce overheads, create new products, and to innovate. Yet, the number of businesses working with outdated and unproductive assets has doubled over the past year to over 22% according to the latest Equipment Demand Index.
Tackling domestic competition, reducing costs and speed to deliver new products to market were cited by businesses as the main reasons for the need to upgrade equipment.
The index notes that, "traditionally, Australian businesses have either used equity or borrowed from a bank to purchase assets outright". In the December 2016 index, nearly half of businesses said they would buy outright, however, this number has dropped to just 26% in the latest survey.
More SMEs ditching the big banks
When seeking finance, only 28% of SMEs will look to their regular bank, according to the research. One of the possible reasons cited in the report is that Basel III regulations are restricting how much the banks can lend, and so businesses need to look at alternative sources of funding.
Similarly, the Scottish Pacific SME Growth Index which polled around 1,200 owners, CEOs or CFOs of small and medium-sized businesses found that small businesses choosing to borrow from the non-bank sector has doubled over the past 3 years.
The report suggests that the major banks are now less flexible when assessing credit applications, particularly for those businesses that are relatively new or "deemed for a number of reasons to have non-conforming credit".
Increasingly, SMEs are turning to finance brokers to help them source the funding they need.
Scottish Pacific CEO, Peter Langham, told Australian Broker that: "Certainly in the SME sector, you've got business owners who just really haven't got the time to get all the information a bank needs. Hence, they use brokers a lot as the broker can help put all that information together.
"The increase in the number of lenders and the importance of brokers will mean that businesses have more choices than just the banks."
Why use a finance broker for business finance?
Just as a mortgage broker offers you greater choice when you're in the market for a home loan, a finance broker can help businesses find the right finance from a wide choice of lenders including the major banks as well as other non-bank and specialist lenders. And like a mortgage broker, they will help with your loan application and support you throughout the process.
There's an additional benefit when you work with a Westlawn Finance Broker. We also have access to our own funds for business lending, so you have even greater choice and flexibility and we can generally save you time with fast approvals.
Here's why you should consider a Westlawn Finance Broker when securing your next business loan:
We work closely with you to learn exactly what you need. We then do the research for you and provide suitable financing options from either Westlawn or from any of the other lenders available to us.
We assess all the information you will need to provide and once received, we will assist with preparing and submitting your application.
We manage the application for you, and work to speed up the approval process. We act as the liaison between you and the lender and provide ongoing support right through to settlement.
We make applying for finance as easy as possible for you. We do all the hard work and running around to help save you time and money.
Westlawn business finance
Our Westlawn Finance Brokers can provide a variety of financing solutions tailored specifically for your business. And with access to major commercial lenders as well as Westlawn's own finance options, we can offer your business greater choice and flexibility.
We specialise in providing finance for a wide variety of business purposes including plant and equipment, commercial vehicles, earthmoving and construction, dental and medical, and office equipment.
To find out how we can help your business, contact us today.
Call us on 1300 WESTLAWN (1300 937 852).
25 October 2017