It's looking more likely that a wet summer is on the cards this year as the Bureau of Meteorology (BOM) has recently upped the chances of a La Nina weather pattern forming over the Pacific. La Nina events typically bring more rain to eastern Australia and can also mean more cyclones in the north.
After an extremely dry winter, we've finally been getting some rain over the last few weeks, and if a La Nina does form, the recent rains could be the beginning of much wetter conditions over the coming months. For the Northern Rivers, this could mean an increase in severe storm activity and the possibility of flooding.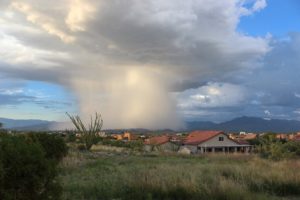 While it's currently a 50-50 chance, the BOM has declared a "watch" for La Nina. If the odds reach 70%, the BOM will declare it as a virtual certainty.
Andrew Watkins, the BOM's manager of climate prediction services told Fairfax Media that the "seasonal outlooks are not as roaring wet as they were in 2010," which is good news. The back-to-back La Ninas of 2010-11 and 2011-12 brought major flooding to Queensland, NSW and Victoria.
While the current seasonal outlook is not as dire, you should prepare now at home and in your business. This includes maintenance and preparations to your property, having an emergency plan in place for family and staff, and ensuring you are adequately insured.
Underinsurance an issue with many homeowners
Research group Canstar has found that 4 in 10 Australians with home and contents insurance have less than $350,000 in total cover. This suggests many people are underinsured given that average home values across the country are now more than double this amount. Despite this, Canstar found that more than 80% feel they have enough to cover their home and contents if their home was totally destroyed.
CoreLogic's head of Australian and New Zealand Insurance Research, Richard Deakin, told real estate website Domain that a lot of people don't really understand how much rebuilding their property will actually cost.
"They may look at their sales price and say 'the property is worth $400,000 on the market…' but it might cost $500,000 to rebuild that property, if not more," he told Domain.
You should regularly review your home and contents insurance to ensure you are adequately covered in the event your home is totally destroyed. If you're in any doubt as to how much protection you need, contact your Westlawn Insurance Broker.
Preparing your home for storms & floods
General maintenance
Check condition of roof and repair loose tiles, eaves and screws.
Clean gutters and downpipes so water can drain away quickly.
Trim trees and overhanging branches.
Secure loose items that could cause damage if blown around in high winds (such as garden furniture, trampolines etc).
General preparations
Ensure your home, contents and car insurance is current and covers your assets adequately – check your policy includes debris clean up and disposal.
Identify your home's strongest room in case you need to shelter during a severe storm. Usually this will be the smallest room with least windows.
Identify where and how to turn off mains supply for water, power and gas.
Have emergency essentials on hand such as masking tape for windows, containers for storing drinking water and a supply of fuel for your vehicle.
In case of flooding, store all poisons well above ground level.
When severe weather warnings are issued
Disconnect electrical appliances and all external television and radio aerials.
Turn off electricity and gas main supplies if instructed by emergency authorities.
Secure outdoor furniture and other garden items.
Fill buckets and bath with clean water in case of interruptions to main supply.
Close windows with shutters, or use strong tape in a criss-crossing pattern and draw curtains.
Park vehicles under cover, away from trees, powerlines and waterways.
If you cannot access undercover shelter for your vehicles, secure with firmly tied blankets to minimise any hail damage.
Check all household members are safe and are in the strongest room in the house.
Listen to your local radio station for updates, further warnings and safety messages.
For information on disaster preparations visit https://getready.qld.gov.au/natural_disasters
What to do if disaster strikes
Immediately following any natural disaster, your highest priority should be the safety of those around you such as family or staff. If damage occurs to your business during working hours, put your emergency plans into place and evacuate the premises where necessary.
Be aware of hazards around the home or business such as broken glass, downed power lines and trees. Shut off power if wires are exposed or if you smell burning. If you require assistance, contact the appropriate emergency services, such as SES, police, fire brigade or ambulance.
Only if it is safe to do so, minimise any further property damage or loss. Check your home or premises and remove any property at risk, including vital business records, to a more secure location.
Businesses should check for failures in critical equipment and begin sourcing replacements as soon as possible. Secure your property by boarding up broken windows and arranging a security guard to protect your premises after hours.
Report any damage to your insurance company or to your Insurance Broker within 24 hours. Complete all claims documentation as soon as practicable while details are fresh in your mind.
Consult a Westlawn Insurance Broker 
Update your emergency plans for your family home and business now. Contact your Westlawn Insurance Broker to ensure you have the right insurance policy for the right sum insured … before it's too late.
Contact Westlawn Insurance Brokers on 1300 WESTLAWN (1300 937 852) or email us at insurance@westlawn.com.au
30 October 2017
Westlawn Insurance Brokers Pty Ltd ABN 65 075 847 291 AFSL No. 246520